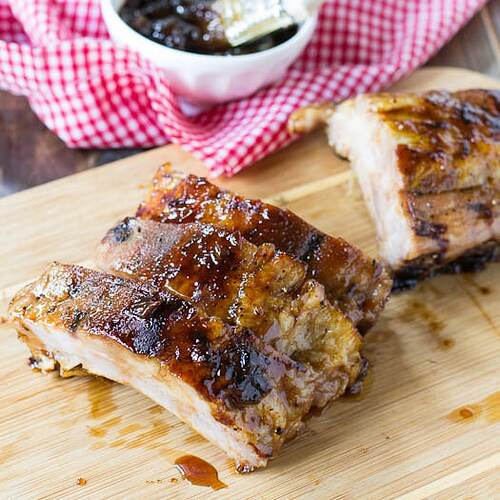 BBQ Sauce
1 head garlic
1 tablespoon olive oil
½ cup water
1 cup pineapple juice
¼ cup teriyaki sauce
1 tablespoon soy sauce
1 cups dark brown sugar
3 tablespoons lemon juice
¼ cup finely minced white onion
2 tablespoon's Jack Daniel's whiskey
1 heaping tablespoon crushed pineapple
¼ teaspoon cayenne pepper

Ribs
1½ teaspoons paprika
½ teaspoon salt
¼ teaspoon dried thyme
½ teaspoon ground black pepper
½ teaspoon garlic powder
½ teaspoon onion powder
¼ teaspoon celery salt
¼ teaspoon ground cayenne pepper
2 racks baby back ribs

Preheat oven to 300 degrees.
Cut ½-inch off of the head of garlic. Remove the outer layers of papery skin. Put the garlic in a small ramekin and drizzle with the olive oil. Cover with foil and bake 1 hour. Let cool.
Meanwhile, begin cooking ribs. Mix all spices for rub together (paprika and next 7 ingredients.)Rub mixture on ribs. Place ribs on a baking tray and place in oven (use the same oven that the garlic is in) for 2½ hours.
Next, make the sauce. In a medium saucepan, combine the water, pineapple juice, teriyaki sauce, soy sauce, and dark brown sugar. Bring to a boil, stirring occasionally. Reduce heat to bring it down to a simmer.
Squeeze 2 teaspoons of garlic out of the head of roasted garlic and add to the saucepan.
Add the lemon juice, onion, whiskey, crushed pineapple, and cayenne pepper.
Let sauce simmer for 30 to 40 minutes, or until reduced by half. Yield is 1 cup.
Preheat grill or grill pan to high heat. Grill ribs for 3 to 4 minutes per side and then baste with sauce and serve.

Serves: 4