The featured recipe of the day is a mouth-watering appetizer, often served at T.G.I. Friday's. If you haven't yet tasted the delightful combination of freshly baked pretzel sticks and beer cheese dip, you're missing out on a real treat. These warm pretzel sticks come with a savory cheese sauce that's infused with beer flavor, making it a perfect snack to share with your friends and family.
Moreover, our forum offers a wide range of exclusive recipes from T.G.I. Friday's that you can explore and enjoy.
=-=-=-=-=-=-=-=-=-=-=-=-=-=-=-=-=-=-=-=-=-=-=-=
The Alpine Secret For Healthy Weight Loss.
=-=-=-=-=-=-=-=-=-=-=-=-=-=-=-=-=-=-=-=-=-=-=-=
=-=-=-=-=-=-=-=-=-=-=-=-=
New Secret Recipe Alert
=-=-=-=-=-=-=-=-=-=-=-=-=
TGI Friday's Pretzel Sticks and Beer Cheese Dip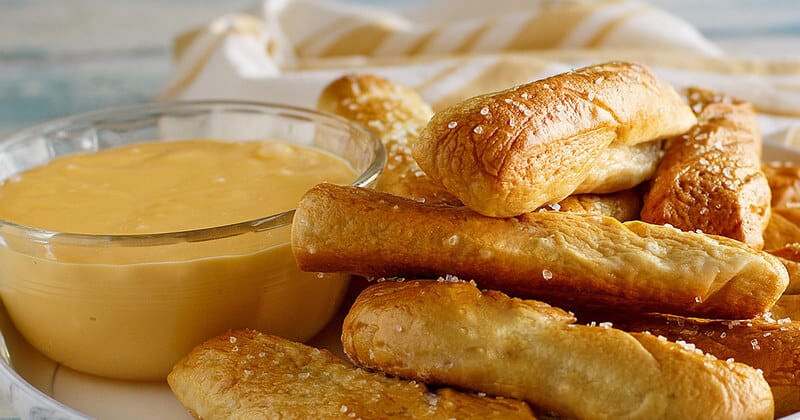 Like this recipe? Get our secret recipe cookbooks on sale – Go Here
Ingredients
Pretzel Sticks:
2 1/2 teaspoons or 1 package instant yeast
1 cup plus 2 tablespoons warm water (125 to 130 degrees)
2 tablespoons plus 1 teaspoon sugar, divided
4 1/2 cups to 5 cups of all-purpose flour, plus more for rolling
1 teaspoon salt
vegetable oil for bowl
8 cups for water
1/4 cup baking soda
1 egg white lightly beaten with 1 teaspoon water, for glaze
1 tablespoon coarse kosher salt, for sprinkling
Beer Cheese Sauce:
8 ounces American cheese
4 to 6 ounces of beer
How to make the pretzel sticks:
Proof the yeast by combining it with 2 tablespoons warm water and 1 teaspoon sugar in a small bowl. Once the yeast begins to foam and bubble, it is ready to use. Transfer the yeast mixture to the bowl of a stand mixer and add the flour and salt ; and begin to mix, using the dough hook. Slowly stream the remaining 1 cup of warm water into the flour; a ball of dough will form. Continue to mix for another minute to knead the dough.

Grease the bowl with vegetable oil, place the dough ball in the bowl, cover with a towel, and let rise for approximately 35 minutes. The dough should double in size.

Four a cutting board and place the dough on the board. Knead and then divide the dough into 16 portions. Roll each portion into a cigar shape and use a sharp knife to cut 2 or 3 slits into the top. Cove with a towel and let rise for another 25 minutes.

Preheat the oven to 375 degrees.

On the stovetop, bring the 8 cups of water to boil in a large saucepan. Add the baking soda and the remaining 2 tablespoons of sugar (the water will foam for a moment). Drop 4 pretzel sticks at a time into the boiling water and cook for 30 seconds per side. Use a slotted spoon to remove the sticks and place them on a baking sheet.

Brush the pretzels with the egg white glaze and sprinkle generously with coarse salt. Bake until brown, about 25 minutes. Transfer to a wire wrack and let cool for 10 minutes. Serve warm or at room temperature.
How to make the cheese sauce:
Chop the cheese into 1 inch cubes and place in a small saucepan with 4 ounces of beer. Warm and stir over low heat until the cheese has melted.
Until Next Time… Be Well!
RSN