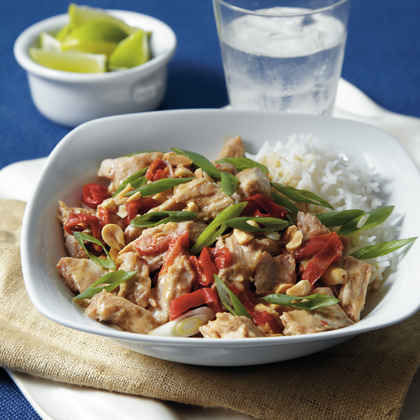 2 pounds boned pork loin, cut into 4 pieces
2 cups (1 x 1/4-inch) julienne-cut red bell pepper
1/4 cup teriyaki sauce
2 tablespoons rice or white wine vinegar
1 teaspoon crushed red pepper
2 garlic cloves, minced
1/4 cup creamy peanut butter
6 cups hot cooked basmati rice
1/2 cup diagonally cut green onions
2 tablespoons chopped dry-roasted peanuts
8 lime wedges
To prepare stew, trim fat from pork. Place pork and next 5 ingredients (pork through garlic) in an electric slow cooker. Cover with lid, and cook on low-heat setting for 8 hours. Remove pork from slow cooker, and coarsely chop. Add peanut butter to liquid in slow cooker; stir well. Stir in pork.
Combine stew and rice in a large bowl. Top each serving with onions and peanuts; serve with lime wedges.