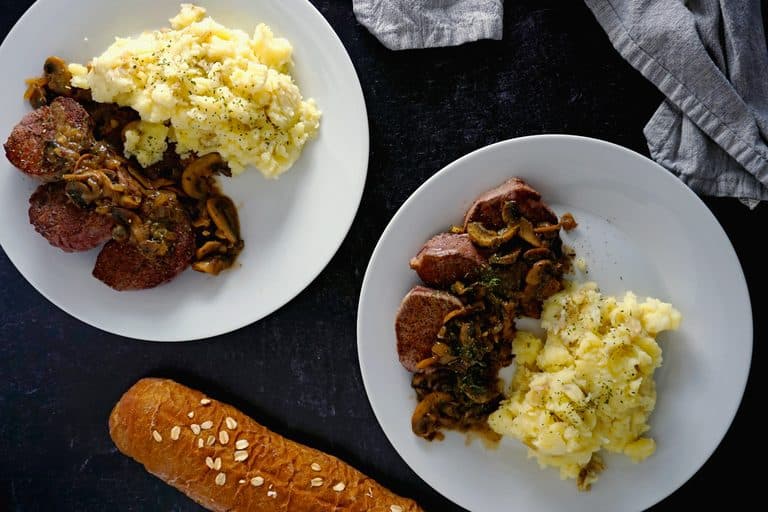 1-1/2 pounds beef tenderloin, cut into 1-inch thick medallions
1 teaspoon cracked or coarsely ground black peppercorns
3 tablespoons olive oil, divided
8 ounces white or cremini mushrooms, thinly sliced
2 cloves garlic, minced
1/2 cup white or yellow onion, diced
2 tablespoons Worcestershire sauce
2 tablespoon Dijon mustard
1 tablespoon honey
1/2 teaspoon dried thyme leaves
1 teaspoon dried parsley
1-1/2 cups Madeira wine (see below for substitution options)
1/4 cup chicken stock
2 tablespoons unsalted butter
Salt and ground black pepper, to taste
Mashed potatoes, for serving
Season and sear the steak
Preheat a large skillet over medium-high heat. Meanwhile, rub both sides of the tenderloin medallions with 1 tablespoon of olive oil, then season the meat liberally with salt and cracked peppercorns.
When the skillet is preheated, sear the steak medallions for 2-3 minutes, then flip and cook for an additional 2-4 minutes, depending on your desired level of doneness. Remove the steaks, cover with foil and let rest while preparing the sauce. (Don't make these steak mistakes)
Saute onions and mushrooms
Reduce the heat to medium and add the remaining 2 tablespoons of olive oil. When the oil begins to shimmer, add the diced onions to the skillet. Saute until softened, 3-4 minutes, and then add the garlic and mushrooms. Saute until the garlic is fragrant and mushrooms have softened; about 4-5 minutes.
Season and deglaze
Add the Worcestershire sauce, Dijon mustard, honey, thyme and parsley to the pan and stir. Deglaze the pan with the Madeira wine and chicken stock, scraping the bottom of the pan to release any stuck-on bits. Bring the sauce to a strong simmer (not quite boiling) and then reduce the heat to medium-low.
Simmer and reduce
The key to making this sauce great is patience. Let it simmer until the wine reduces by half, about 20 minutes. (While you wait, here are more of our go-to recipes with wine.) In this time, the sauce will thicken and the flavors will become concentrated. When the sauce has reached the desired consistency, stir in the butter until melted and season with salt and pepper, to taste.
Serve
To serve, divide the steak medallions between two plates. Mound a large serving of mashed potatoes (like one of our most-requested mashed potato recipes) beside the steak and spoon a generous amount of the mushroom wine sauce over the steak and potatoes. Serve immediately.
Substitutions for Madeira Wine
Madeira wine will yield results with the closest flavor to The Cheesecake Factory's mushroom wine sauce for steak Diane, but there are a few great substitution options if you're having trouble locating it.
Sherry, cognac, brandy or Marsala wine are all suitable options. We also had good results with an affordable bottle of pinot grigio, but any semi-dry white wine will probably work in a pinch.
If you prefer to not cook with alcohol, you may also swap for an equal amount of high-quality chicken stock. Note that the sauce will lose a bit of its depth, body and richness, but will still taste delicious.