A Secret Recipe that will show you how to make one of the popular dishes at The Cheesecake Factory. This shrimp creole dish combines delicious shrimp and peppers with a spicy tomato based sauce, served with steamed white rice.
You can find easy instructions on how to prepare the Spicy Shrimp Broth used in this recipe.
Enjoy!
=-=-=-=-=-=-=-=-=-=-=-=-=-=-=-=-=-=-=
Lose Weight With This Water Hack
=-=-=-=-=-=-=-=-=-=-=-=-=-=-=-=-=-=-=
=-=-=-=-=-=-=-=-=-=
Secret Recipe Alert
=-=-=-=-=-=-=-=-=-=
The Cheesecake Factory Shrimp Creole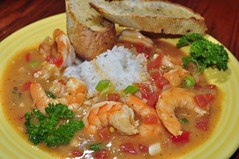 Ingredients:
1 Tbl. Vegetable Oil
4 oz. Red and Yellow Peppers, diced 1/2″
2 oz. Yellow Onions, diced 1/4″
1 oz. Celery, minced
1/2 oz. Green Bell Peppers, 1/4″chopped
2 tsps. Garlic, minced
10 oz. Shrimp (medium), deveined, tail-off
1 tsp. Cajun Spice Blend
2 tsps. Rice Flour
4 oz. Roma Tomatoes, peeled, seeded, diced 1/2″
8 oz. Spicy Broth
4 oz. Tasso Sauce (optional)
1 oz. Green Onions, chopped 1/4″
8 oz. Steamed White Rice
2 tsps. Parsley, fresh, chopped
Instructions:
Place the shrimp into a small mixing bowl. Sprinkle the blackening spice and rice flour over the shrimp, tossing together until the shrimp are evenly coated with the spicy flour. Cover the bowl and set aside under refrigeration until needed.

Heat the vegetable oil in a non-stick sauté pan set over medium-high heat. Add the vegetables into the pan and cook until the vegetables are tender and well caramelized.

Add the garlic to the pan, stirring quickly to avoid burning. Add the shrimp and tomatoes into the pan. Stir the ingredients together until evenly combined.

Ladle the spicy broth and Tasso sauce into the pan, gently stirring and tossing to incorporate. Continue to cook for approximately 2 minutes or until the sauce has thickened slightly and all of the ingredients are heated through. Toss together once or twice while cooking so that all of the ingredients cook evenly.

Add the green onions into the pan, stirring gently together until evenly combined. Continue to cook the ingredients for another 5-10 seconds or until the shrimp are done.

Pour the shrimp creole into the serving bowls. Place the white rice into the center area of the bowl on top of the shrimp creole.

Garnish each bowl of shrimp creole with a sprinkle of chopped parsley.
Serves 2
Source: The Cheesecake Factory
Search for more Secret Restaurant Recipes Here.
Like Copycat Recipes? Get our Secret Recipes Cookbook Here.
Until Next Time… Be Well!
Kind Regards,
RSN