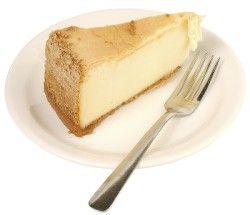 A truly elegant cheesecake for your dinner party guests. This one is made with toasted ground hazelnuts and hazelnut-flavored liqueur.
CRUST:
2 cups graham cracker crumbs
1/3 cup sugar
1/2 cup butter, melted
FILLING:
2 8-ounce packages cream cheese, softened
1 cup sugar
3 eggs
1/4 cup hazelnut flavored liqueur
1 cup chopped hazelnuts, toasted
TOP LAYER
1 1/2 cups dairy sour cream
1/4 cup sugar
1 teaspoon vanilla
Add butter combined crumbs and sugar; mix well. Press onto bottom of buttered 9-inch spring form pan. Wrap outside of pan with aluminum foil. Combine cream cheese and sugar, mixing at medium speed with an electric mixer until well blended. Add eggs, one at a time, mixing well after each addition. Blend in liqueur and nuts; pour over crust. Place spring form pan in larger pan with at least 1 inch sides. Fill with 1/2 inch very hot water. Bake at 350 degrees for one hour. Combine sour cream, sugar, and vanilla; spread over cheesecake. Cool; chill.
Yield: 16 servings