The Ultimate Chicken Wing Cookbook
101 Chicken Wing Recipes
The Ultimate Chicken Wing Cookbook is the definitive collection of recipes for the chicken wing lover. Filled with easy, addictive recipes that run from classic to exotic, you will discover some of the BEST chicken wing recipes in the world! Your family and friends won't touch fast food once they have tasted just some of these wings.
Discount Cookbook Club Members Get This Cookbook Free (password required):

(The cookbook club is a paid subscription that is separate from our free recipe forums)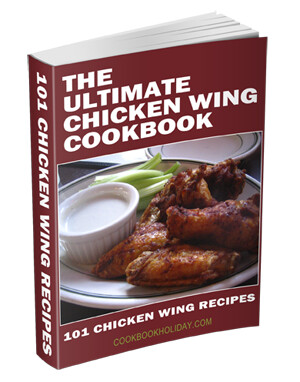 Recipes Included:
[ul]
Anchor Bar Hot Wings
Beau's Sweet-Sour Chicken Wings
Can't Get Enough Chicken Wings
Center Club Chicken Wings
China Sam's Chicken Wings
Cookie's Wings From Hell
Crispy Honey Wings
Empress Chicken Wings
Garlicky Gilroy Chicken Wings
Hawaiian Chicken Wings
Jamaican Jerk Chicken Wings
James' World's Hottest Wings!
 
& Many More!

[/ul]
- Non Members Can Sign Up Here
- Or To Order This Title Separately Click Here