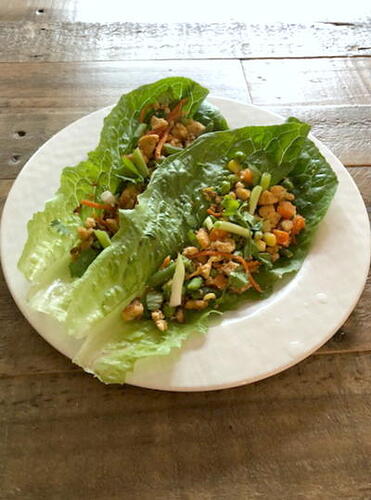 12 -14 ounce package extra firm or firm tofu
2 tbsp vegetable oil such as canola, avocado or grape seed
1 – 2 tbsp dark sesame oil
1/4 cup low sodium tamari or soy sauce
2-3 chopped garlic cloves or 1 tsp garlic powder
1/2 cup shredded carrots
3/4 cup frozen mixed vegetables or peas
1/2 tsp powdered ginger
1/2 tsp sugar, optional
6 to 8 romaine lettuce leaves, rinsed, drained and patted dry or Iceberg lettuce leaves
1 to 2 chopped scallions/green onions, use all of the white and some of the green
Drain, rinse the tofu and pat dry with paper towels.
Press down a few times to release excess water.
Heat vegetable oil over medium heat in a large nonstick pan.
Add in tofu and chop up into small pieces. Add garlic.
Keep stirring until tofu starts to turn golden brown.
Add in shredded carrots, soy sauce, ginger, sugar if using.
If needed turn heat up just a bit. Add in frozen vegetables.
Cook until thoroughly heated through.
Lower heat and add in sesame oil. Stir. Toss in a few of the scallions.
Save a few for garnish.
Fill lettuce leaves and serve.
Pioneer Woman