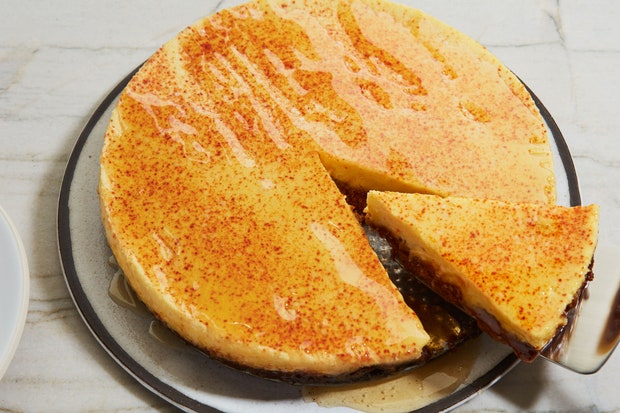 2 cups gingersnap cookie crumbs
2½ tablespoons sugar
5 tablespoons unsalted butter, melted
Filling:
4 ounces fresh goat cheese, at room temperature
6 ounces cream cheese, at room temperature
½ cup buttermilk
½ cup plus 2 tablespoons sugar
4 large eggs
Grated zest and juice of 1 lemon
1 teaspoon togarashi (see note)
About 1 tablespoon sorghum for garnish
Preheat the oven to 350°F.
To make the crust:
Stir the cookie crumbs, sugar, and melted butter together in a medium bowl with a fork until the crumbs are evenly moistened. Press the mixture evenly onto the bottom of a 9-inch springform pan. Bake until golden brown and crispy, about 10 minutes. Cool completely. Reduce the oven temperature to 325°F.
To make the filling:
In the bowl of a stand mixer fitted with the paddle attachment (or using a handheld mixer), beat together the goat cheese, cream cheese, and buttermilk until smooth and fluffy, 4 to 5 minutes. Gradually beat in the sugar until smooth. Beat in the eggs one at a time. Beat in the lemon zest and juice. Beat in ½ teaspoon of the togarashi.
Assemble:
Pour the filling into the springform pan. Sprinkle the top with the remaining ½ teaspoon togarashi. Wrap the pan in aluminum foil to prevent leaks and place the pan in a large roasting pan. Pour enough hot water into the roasting pan to come one-third of the way up the sides of the cake pan.
Bake the cheesecake for 1 hour and 20 minutes, or until slightly puffed. Remove the cake pan from the water bath and allow it to cool to room temperature, then chill in the refrigerator for at least 2 hours. (The cheesecake can be refrigerated, tightly wrapped in plastic wrap, for up to 5 days.)
To serve, run a thin knife around the sides of the cake pan and release the sides of the pan. Slide the cheesecake onto a serving platter. Drizzle the top with a little sorghum, slice, and serve.
Note
If you can't find togarashi, substitute a little cayenne pepper and a sprinkle of sesame seeds.