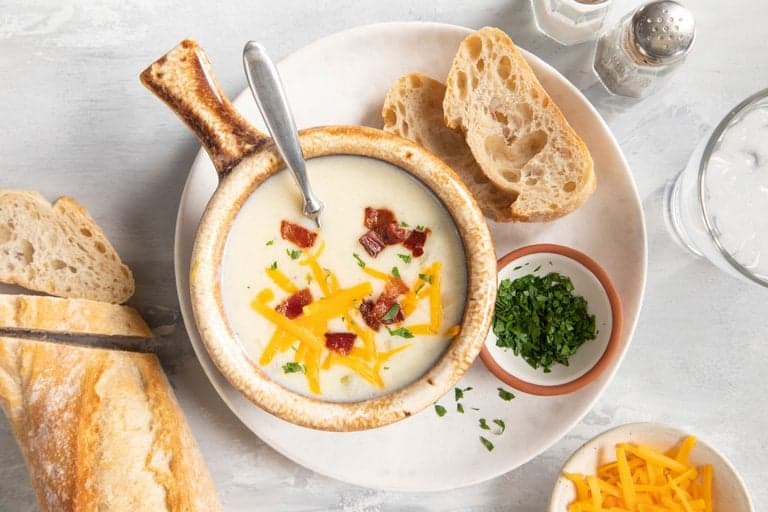 A reader recently requested a recipe for the delicious Baked Potato Soup served at Tony Roma's. Following is a terrific facsimile of that soup that ran in our Restaurant Replicas column some time ago. Made with baked potatoes, chicken broth and half-and-half and topped with shredded Cheddar cheese, crumbled bacon and chopped green onions, a bowl or two of this is difficult to resist.
1/2 medium brown OR yellow onion, chopped (about 3/4 cup)
1/4 cup (1/2 stick) butter
1/3 cup flour
1 quart chicken broth
2 cups half-and-half
7 to 8 medium potatoes, baked until tender, peeled and cut into small cubes
Seasoned salt and garlic pepper to taste
1 to 1 1/2 cups shredded Cheddar cheese
1 to 1 1/2 cups crumbled cooked bacon
1/2 cup finely chopped green onions
In large soup pot, cook brown onion in butter over medium heat until tender. Blend in flour until smooth; cook 1 minute, stirring. With wire whisk, slowly whisk in chicken broth and half-and-half until smooth; cook, whisking until smooth, over medium heat until mixture boils. Boil, stirring, 1 minute. Reduce heat to low. Add potatoes. Season to taste with seasoned salt and garlic pepper. Heat through a few minutes.
Divide soup into 6 soup bowls. Garnish with rows of Cheddar cheese, crumbled bacon and green onions. Serve immediately. Makes 6 servings.
Source: Restaurant Replicas column, Los Angeles Daily News, 2004