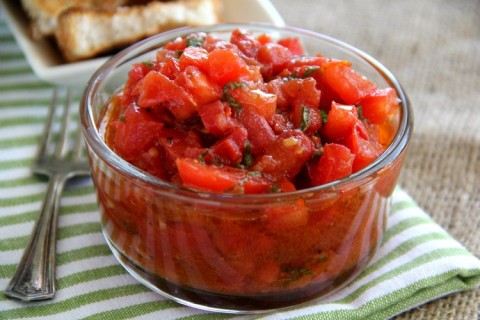 4 Roma tomatoes, seeded and diced small
3 tablespoons extra-virgin olive oil (I used Arianna Trading Company Organic Raw EVOO)
1/2 tablespoon balsamic vinegar
10 leaves fresh basil, cut in a chiffonade (fine ribbons) (this is about 1 tablespoon finely chopped basil)
1-2 cloves garlic, finely minced
1/2 teaspoon agave syrup
Pinch kosher salt
A few grindings of black pepper
Add all ingredients to a small bowl, and mix gently.
Allow to rest for 15 or so minutes, and stir again (some of the water will be drawn out of the tomatoes and it will become just a bit more saucy). Taste and adjust salt, pepper and vinegar, if your taste buds tell you to add more.
Makes 1 1/2 cups or so. Serves 4.