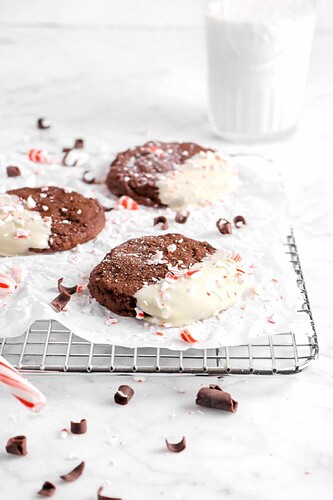 1 cup butter, softened
1 cup packed brown sugar
1/2 cup sugar
2 large eggs, room temperature
2 teaspoons vanilla extract
2-1/2 cups all-purpose flour
3/4 cup baking cocoa
1 teaspoon salt
1 teaspoon baking soda
1 cup semisweet chocolate chips
1/2 cup 60% cacao bittersweet chocolate baking chips
WHITE CHOCOLATE FROSTING:
1/2 cup white baking chips
4 ounces cream cheese, softened
3 cups confectioners' sugar
2 to 3 tablespoons 2% milk
1/3 to 1/2 cup crushed peppermint candies
Preheat oven to 375°. Cream together butter and sugars until light and fluffy, 5-7 minutes. Beat in eggs and vanilla. In a separate bowl, whisk flour, cocoa, salt and baking soda; gradually beat into creamed mixture. Stir in semisweet and bittersweet chocolate chips.
Drop by rounded tablespoonfuls 2 in. apart onto ungreased baking sheets. Bake until set, 8-10 minutes. Cool 2 minutes before removing to wire racks to cool completely.
For frosting, melt white baking chips in a microwave; stir until smooth. In another bowl, beat cream cheese and confectioners' sugar until smooth. Beat in melted chips. Add enough milk to reach desired consistency. Frost cookies; sprinkle with peppermint candies.