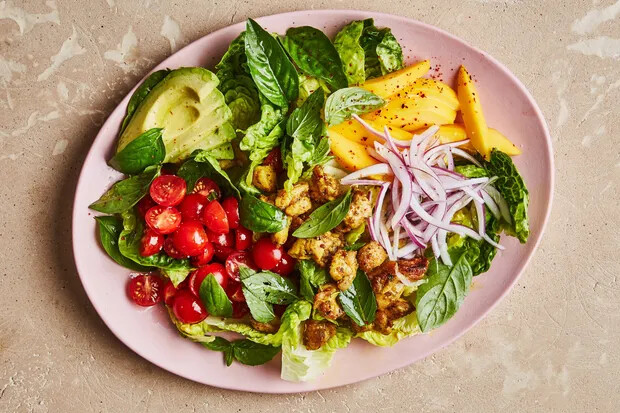 1 tsp. ground coriander
1 tsp. ground cumin
½ tsp. ground turmeric
½ tsp. crushed red pepper flakes
7 Tbsp. extra-virgin olive oil, divided
6 garlic cloves, lightly crushed
4 skinless, boneless chicken thighs, cut into (¾") pieces
Kosher salt
2 Tbsp. fresh lime juice
2 ripe avocados, sliced
2 small ripe mangoes, sliced
¼ red onion, thinly sliced
6 cups torn Little Gem or green lettuce leaves
1 cup cherry tomatoes, halved
Flaky sea salt, mild red pepper flakes, and basil and/or mint leaves (for serving)
Mix coriander, cumin, termeric, and red pepper flakes in a small bowl; set aside. Heat 2 Tbsp. oil in a large nonstick skillet over medium. Add garlic and cook, tossing occasionally, until golden brown all over, about 5 minutes. Increase heat to medium-high. Season chicken with kosher salt and add to skillet. Cook, tossing occasionally, until chicken is golden brown and nearly cooked through, about 3 minutes. Remove from heat and sprinkle reserved spice mix over. Toss several times to coat and let chicken sit in skillet until cooked through, about 1 minute longer. Transfer to a plate and let cool slightly.
Whisk lime juice and remaining 5 Tbsp. oil in a small bowl; season dressing with kosher salt.
Arrange lettuce, chicken, avocado, mango, onion, and tomatoes on a platter. Drizzle with dressing. Sprinkle with sea salt and red pepper flakes and scatter herbs over.