Are you craving for tender and soft crab cakes? Look no further than The Oceanaire Seafood Room's Maryland-style crab cakes recipe! These popular menu items are now within reach, and you can even prepare them ahead of time for a stress-free dining experience with guests.
As one of the top seafood restaurants in Washington D.C., The Oceanaire is renowned for its fresh and flavorful seafood dishes, and these crab cakes are no exception. Baked to perfection, they are not fried, making them a healthier option.
To complement the dish, the restaurant suggests serving the crab cakes with mustard mayonnaise, a delightful blend of mayonnaise seasoned with dry mustard, Dijon mustard, Worcestershire sauce, and salt, thinned with a little cream. Alternatively, you can pair them with tartar sauce for a tangy kick.
Enjoy!
=-=-=-=-=-=-=-=-=-=-=-=-=-=-=-=-=-=-=-=-=-=-=-=
The Alpine Secret For Healthy Weight Loss.
=-=-=-=-=-=-=-=-=-=-=-=-=-=-=-=-=-=-=-=-=-=-=-=
=-=-=-=-=-=-=-=-=-=-=-=-=
New Secret Recipe Alert
=-=-=-=-=-=-=-=-=-=-=-=-=
The Oceanaire Seafood Room's Maryland-style Crab Cakes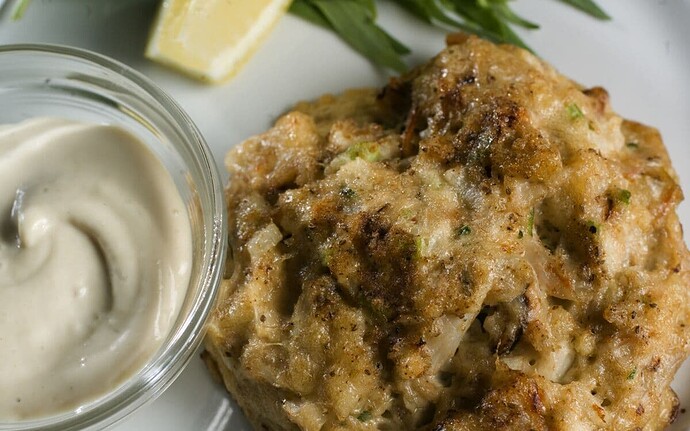 Ingredients:
2 eggs
1 cup mayonnaise
3/4 teaspoon Dijon mustard
1 1/4 teaspoons Old Bay Seasoning, divided
3/4 teaspoon fresh chopped tarragon
1/4 cup finely chopped onion
1 tablespoon finely chopped celery
1/4 pound (scant 2 cups) crustless cubed white bread (about 1/4 loaf), cut into small cubes
1 pound jumbo lump crab meat, drained of any liquid
2 tablespoons butter, at room temperature
Instructions:
Heat the oven to 400 degrees.

In a medium mixing bowl, whisk together the eggs, mayonnaise, mustard, three-fourths teaspoon Old Bay Seasoning, tarragon, onion and celery to make a dressing.

In a large mixing bowl, toss the bread with half of the dressing, mixing until the dressing is absorbed by the bread and the cubes are slightly broken up. Add additional dressing if the cubes are too dry.

Gently mix in the crab, being careful not to break up the lump pieces. The mixture should hold its shape when formed into a ball with your hand. If it is too dry, add additional dressing until the mixture comes together. You might not use all of the dressing.

Divide the mixture and form into 8 crab cakes. Place the cakes on a greased cookie sheet or sheet pan.

In a small bowl, stir the butter together with the remaining one-half teaspoon Old Bay Seasoning. Top each cake with a small dollop of the seasoned butter.

Bake the cakes until golden brown, about 10 to 12 minutes. Serve warm.
Makes 8 (4-ounce) crab cakes
Source: L.A. Times
Until Next Time… Be Well!
RSN