Tuna Patties With Lemon Dill Sauce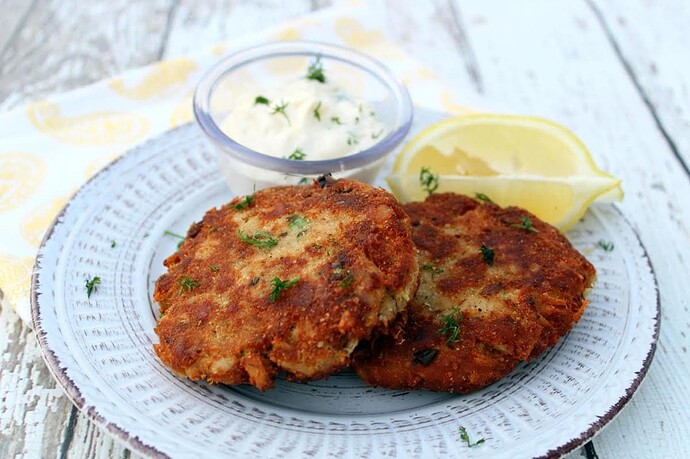 Lean protein in your diet is essential to weight loss and weight maintenance. Tuna fish is an excellent source of lean protein as it is lower in fat than red meats.
"Tuna Patties With Lemon Dill Sauce" is another recipe in a range of hunger-fighting, low fat recipes that can assist you in keeping your weight under control.
Try these tuna fish patties, hot or cold they are delicious. They are great for the lunchbox - just hold back the sauce.
Ingredients
1 (12 ounce) (350g) can white tuna packed in water, drained and finely flaked
3/4 cup seasoned bread crumbs
1/4 cup minced green onion
1 egg
1/2 cup skim milk
1/2 teaspoon grated lemon peel
Lemon Dill Sauce
1/4 cup nonfat chicken broth
1 tablespoon lemon juice
1/4 teaspoon dried dill
Directions
In large bowl, combine tuna, breadcrumbs, green onion, egg, milk, and lemon peel.
With lightly floured hands, form mixture into patties.
Spray a large nonstick skillet with cooking spray and heat over medium heat.
Cook patties, until golden brown on both sides, about 3 minutes per side.
Sauce
Combine all ingredients in a small saucepan and heat over medium heat until warm.
Add a small amount of flour and mix with a whisk to thicken sauce.
Spoon sauce over tuna patties and serve.
Makes 4-6 Servings
Approximate Nutrients per serving
Calories: 190
Total fat: 1
Saturated fat: 0 grams
Cholesterol: 72 mg
Sodium: 34 mg
Carbohydrate: 18 grams
Protein: 29 grams
Dietary fiber: less than 1 gram
Until Next Time… Be Well!
Kind Regards,
RSN
=-=-=-=-=-=-=-=-=-=-=-=-=-=-=-=-=-=-=-=-=-=-=-=-=-=-=-=-=-=-=
Your Coffee, Your Metabolism Made Better with Java Burn
=-=-=-=-=-=-=-=-=-=-=-=-=-=-=-=-=-=-=-=-=-=-=-=-=-=-=-=-=-=-=