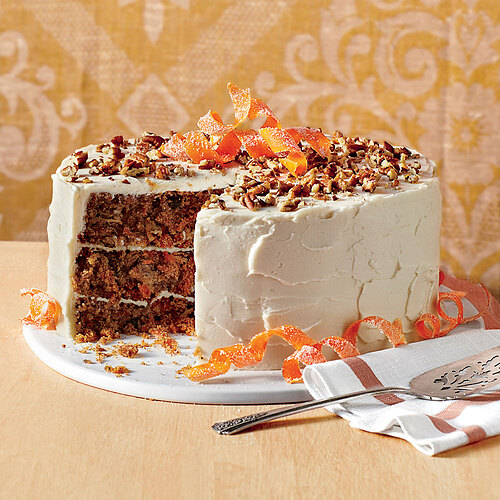 1 1/2 cups chopped pecans
1 tablespoon butter, melted
1/8 teaspoon kosher salt
2 1/2 cups all-purpose flour
2 teaspoons baking soda
1 1/2 teaspoons ground cinnamon
1/2 teaspoon ground nutmeg
1/2 teaspoon table salt
1/2 cup butter, softened
1 cup granulated sugar
1 cup firmly packed light brown sugar
1/2 cup canola oil
3 large eggs
3/4 cup buttermilk
2 teaspoons vanilla extract
3 cups grated carrots
1 cup peeled and grated Granny Smith apple
1 cup sweetened flaked coconut
Candied Carrot Curls
Brown Sugar-Cream Cheese Frosting
Preheat oven to 350°. Toss together first 3 ingredients; spread in a single layer in a foil- lined pan. Bake 10 minutes or until toasted, stirring once.

Stir together flour and next 4 ingredients. Beat butter and both sugars at medium speed with an electric mixer until blended. Add oil; beat until blended. Add eggs, 1 at a time, beating just until blended.

Add flour mixture to butter mixture alternately with buttermilk, beginning and ending with flour mixture. Stir in vanilla; fold in carrots, next 2 ingredients, and 1 cup toasted pecans. Spoon batter into 3 greased (with shortening) and floured 9-inch round cake pans.

Bake at 350° for 23 to 28 minutes or until a wooden pick inserted in center comes out clean. Cool in pans on wire racks 15 minutes. Remove from pans, and cool completely. Spread Brown Sugar-Cream Cheese Frosting between layers and on top and sides of cake. Top with Candied Carrot Curls and remaining toasted pecans.
Candied Carrot Curls
Parchment paper
Vegetable cooking spray
1 or 2 large peeled carrots
1 cup water
1 cup sugar
Sugar (optional)
PREPARE CARROTS. Preheat oven to 225°. Line a baking sheet with parchment paper, and lightly grease with cooking spray. Remove 15 to 20 long strips from carrots, using a vegetable peeler. (Strips will get wider as you get close to the core of the carrot.)

COOK AND DRAIN. Bring 1 cup water and 1 cup sugar to a boil in a large heavy-duty saucepan over medium-high heat. Add carrot strips, and reduce heat to medium-low. Simmer carrot strips 15 minutes. Drain in a wire-mesh strainer, and cool 5 minutes.

BAKE THE STRIPS. Spread cooked carrot strips 1 inch apart in a single layer on prepared baking sheet. Bake at 225° for 30 minutes. As the carrot strips bake, they will begin to look translucent. Remove from oven. (Strips will be warm but cool enough to handle.)

CREATE THE CURLS. Working quickly, wrap each carrot strip around the handle of a wooden spoon, forming curls. Gently slide off spoon. Sprinkle with sugar, if desired. Let curls sit at room temperature until completely dry (about 30 minutes).
Brown Sugar-Cream Cheese Frosting
2 (8-oz.) packages cream cheese, softened
1/2 cup butter, softened
1/4 cup firmly packed light brown sugar
2 teaspoons vanilla extract
7 cups powdered sugar
Beat softened cream cheese, butter, and brown sugar at medium speed with an electric mixer until creamy. Add vanilla, and beat until blended. Gradually add powdered sugar, beating at low speed until blended. Increase speed to high; beat 1 minute or until smooth.
Southern Living