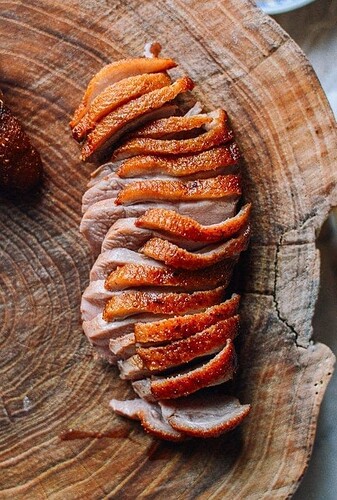 Serves/Makes: 4
Ready In: 30-60 minutes
Ingredients:
4 skinless White Pekin duckling breasts
4 navel oranges
1 tablespoon sesame oil
1 tablespoon soy sauce
2 tablespoons fresh mint, minced
1 tablespoon sugar
1 red onion, peeled and sliced into thin rings
1 small bunch green seedless grapes, stemmed
1 head escarole, cored and chopped into 1-inch pieces
6 ounces baby red romaine leaves
1 tablespoon grapeseed oil
Salt and freshly ground pepper, to taste
Directions:
Juice three of the oranges.

Combine orange juice with the sesame oil, soy sauce, minced mint, sugar and red onion. Mix well together, and season with salt and pepper to taste.

Marinade the duck breasts in this mixture for about 30 minutes. Remove duck and save the marinade.

In a small saucepan, boil leftover marinade for 1 minute. Add more seasoning if necessary.
Let cool; this will be the dressing for the finished dish.

Segment the remaining orange by slicing off the top and bottom. Set orange on flat side, and carefully cut away skin and all of pith. Then, slide the knife between each membrane to remove just the fruit.

Add grapes to oranges, and set aside.

Preheat your grill. You know the grill is ready when it is too hot to hold your hand 6 inches above grill for more than 2 or 3 seconds.

Pat duck breasts dry, and season on both sides with salt and pepper.

Place duck breasts on the grill and cook for about 8 minutes for medium or cook slightly longer if you prefer well-done meat.

Remove from grill, and keep warm while you finish the salad.

In a large bowl, lightly toss escarole and romaine with half of the reserved marinade-dressing.

Divide greens equally among 4 plates.

Slice duck breasts on an angle, and place on top of salad. Scatter citrus segments and grapes over each plateful.

In a bowl, mix grapeseed oil into remaining dressing. Drizzle remaining dressing over the top of each serving.
Yum!
Until Next Time… Be Well!
RSN