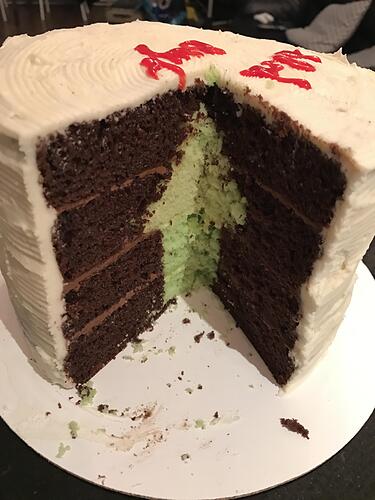 Bake four 8-inch chocolate cakes and freeze before carving (to minimize crumbs). I froze it for a few days which turned out fine. Make sure you have enough freezer space for four more green cakes. It's just a basic chocolate cake recipe.

Add green and yellow food colouring to white cake recipe.

Bake four 8-inch green cakes and freeze. I wrapped the cakes in plastic wrap and put them in freezer ziplocs.

Make buttercream (one green and one chocolate) and frost two layers of green cake together. Repeat with all the other layers so you have two green 2-layer cakes and two chocolate 2-layer cakes.

Carving the cake! Take a 4.5" cookie cutter and press it into the green cake to make a guideline. Take a skewer and stick it in the middle of a two layer green cake. Use a sharp knife and cut at a 45' angle along the cookie cutter guideline so that the knife hits the skewer.

Gently remove the cone shape and repeat step 5 for a two layer chocolate cake.

Place green cone inside the chocolate cake and worry about how it doesn't look very good…

Cutting the base of the arrow… I used a 2" can of tomato paste as a guideline to cut straight down the cakes. Put the green column into the chocolate cake. This is significantly easier to do than the arrow top. Frost the cake with chocolate and green buttercream and put that top portion of the arrow on top.

Crumb coat. Chill crumb coated cake for a while before frosting again.

Trying to hide flaws with those "decorative" lines… in retrospect I should have trimmed the cakes into nice and perfect circles since the cakes were a bit uneven.