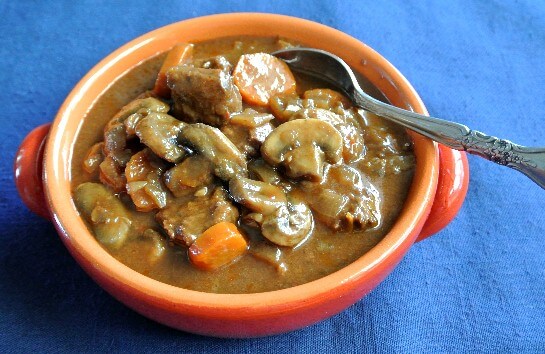 2 bags (9 oz. each) beefless Gardein Homestyle Beefless Tips (I cut each peice in half)
2 Tablespoons canola oil
1 Tablespoon butter (such as Earth Balance)
1 yellow onion, diced
3 carrots, sliced
2 cloves garlic, diced
2 Tablespoons flour
2-1/2 cup vegetable broth
1/2 cup water
1 Tablespoon liquid smoke
2 Tablespoons tomato paste
1 cup good burgundy wine
1/2 teaspoon thyme
1 bay leaf
1 teaspoon salt
1 lb. (or package) sliced mushrooms
This is off the subject but I want to tell you about this handy gadget I found that chops onions and bell peppers into two different diced sizes. You have to be strong to use it and I found it works best to cut the onion in 8th's if it is a large onion but it does beautiful work. Here is a picture of it.
Heat the oil and a large skillet.
Add the onion and carrot and saute about 10 to 15 minutes or until the onions come out translucent.
Add 1 Tablespoon butter.
Add the garlic and cook another couple of minutes.
Add the flour and stir to coat and cook for another minute.
Add all of the ingredients from the skillet to the slow cooker .
Stir in the broth, water, liquid smoke, tomato paste, wine, bay leaf, thyme and salt.
Here is a photo of the frozen meatless beef - before I cut each piece in half. They need to defrost a bit but not all the way.
Add the meat and stir.
Cook on low for 6 to 8 hours.
About an hour before serving, saute the mushrooms in a Tablespoon of butter for about 10 minutes.[
Add to the crockpot and cook another hour.
Serve by itself or with noodles, potatoes or rice. Whatever is your hearts desire.
Notes
IF FREEZING:
Let cool to room temperature.
Package in rigid sided containers as defined in my article Preparing Food for the Freezer
TO PREPARE AFTER FREEZING:
Remove from the freezer and put in the refrigerator overnight because it is a pretty solid mass and will take longer to defrost.
The night of serving -
Put all in a large pan or skillet and heat through.
Ready to serve.
Julia Childs