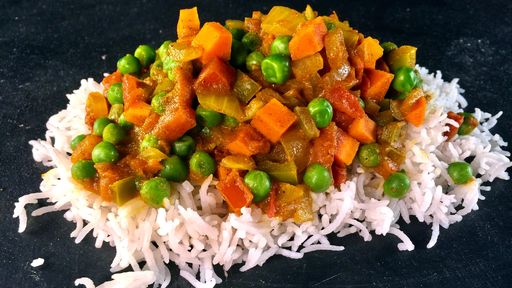 4 tablespoons butter
1 large yellow onion (peeled, diced small)
2 anaheim peppers
1 tablespoon chili powder
2 teaspoons ground cumin
2 teaspoons ground coriander
2 teaspoons ground turmeric
1 teaspoon cayenne
1 teaspoon ground cinnamon
1 teaspoon ground nutmeg
1 teaspoon ground cardamom
4 plum tomatoes (cored, diced small)
4 large carrots (peeled, diced small)
2 cups frozen peas (thawed)
1 cup basmati rice (rinsed)
2 cups vegetable stock
Kosher salt and freshly ground black pepper (to taste)
Preheat the oven to 375ºF.
In a large saute pan over medium-high heat, melt the butter and add the onions and green chiles.
Cook until tender and fragrant, about 3-4 minutes.
Stir in the chili powder, cumin, coriander, turmeric, cayenne, cinnamon, nutmeg and cardamom
and cook for until spices are fully incorporated and toasted, about 4-5 minutes.
Add the tomatoes, carrots and cook for one minute more.
Stir in the peas, rice and vegetable stock. Bring to a boil, cover with lid and place in the oven.
Cook until the rice is just cooked through, about 20 minutes.
Remove from the oven and allow to cool slightly, then fluff with a fork.
Season with salt and pepper if necessary.