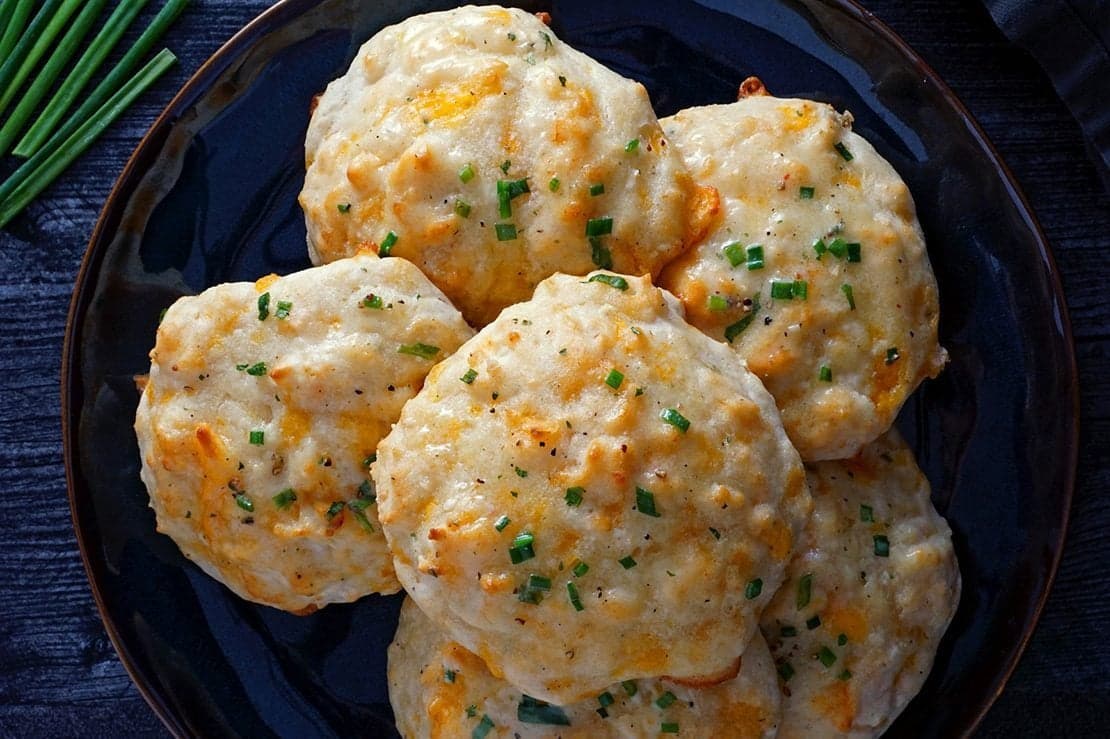 These are the easiest and best tasting biscuits you can make.
5 minutes prep - 15 minutes baking - 20 minutes total time.
Ingredients:
3 cups all purpose flour
2 Tbsp white granulated sugar
4 tsp baking powder
1 tsp table salt
1/4 tsp of garlic powder
1/4 tsp dried parsley flakes
1 cup grated cheddar cheese
1/2 cup milk
1/3 cup buttermilk or plain yogurt
1/2 cup cooking oil (corn, canola, etc)
Topping After Baking:
2 tablespoons butter, melted
1/4 teaspoon dried parsley flakes
1/2 teaspoon garlic powder
a pinch salt
Instructions:
Preheat oven to 400 degrees F.
Add dry ingredients (flour, sugar, baking powder garlic powder, dried parsley flakes, salt and grated cheddar
cheese) to mixing bowl and stir with a fork until well mixed.
In a 2-cup measuring cup, add the milk and buttermilk or yogurt and stir well with a fork.
Add the cooking oil to the milk mixture but do not stir in the oil.
Pour the liquid, all at once, into a well in the center of the dry ingredients.
Stir with a fork until dry ingredients are moistened and a ball of dough is formed.
Turn dough onto bread board and knead 5 or 10 times to mix ingredients.
Pat dough flat until it is 1/4 inch thick and cut out biscuits with a 2 1/2-inch biscuit cutter.
Place cutout biscuits on a baking or cookie sheet with their edges touching.
Bake in a preheated 400 degrees F oven for 15 minutes or until tops are golden brown.
Topping:
Stir together the melted butter, dried parsley flakes, 1/2 teaspoon garlic powder and a pinch salt.
Brush this mixture on the tops of the hot Cheddar Bay Biscuits after baking.
Serve warm with butter.
Makes 12 biscuits.