Fried Egg Bánh Mì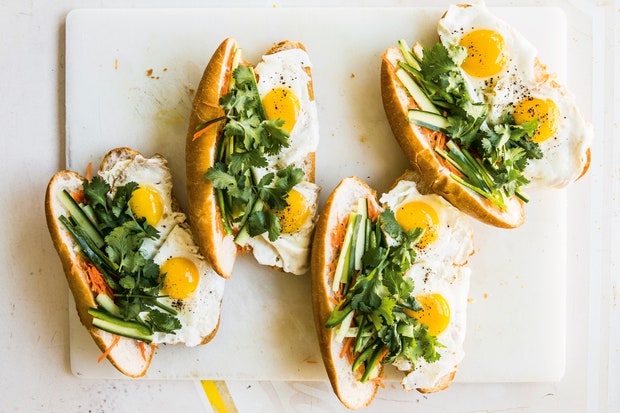 1/2 cup mayonnaise
2 tablespoons fish sauce
6 tablespoons unsalted butter, at room temperature
8 large eggs
Kosher salt and freshly ground black pepper
4 (6-inch) baguettes, halved lengthwise
1/2 English cucumber, seeded and thinly sliced lengthwise into strips
2 jalapeños, seeded and cut into rings
2 medium carrots, shredded
12 cilantro sprigs
Sriracha, for serving (optional)
Preheat the oven to 400°F. In a small bowl, whisk together the mayonnaise and fish sauce.
Heat 1 tablespoon of the butter in a nonstick skillet over medium heat until the foam subsides. Break 2 eggs into the pan. Season them with salt and pepper and reduce the heat to low.
Cook the eggs slowly until the whites are set but the yolks are still runny. Transfer to a plate and keep warm. Repeat the process with 3 more tablespoons of butter and the remaining 6 eggs.
Spread the remaining 2 tablespoons butter on the baguettes. Place the baguettes on a baking sheet and toast in the oven for 10 minutes. Season the cucumber, jalapeños, and carrots with salt and pepper to taste.
To build the bánh mì, spread each baguette half with the fish sauce mayonnaise, then top with 2 eggs, some of the vegetables, a few cilantro sprigs, and Sriracha, if desired.