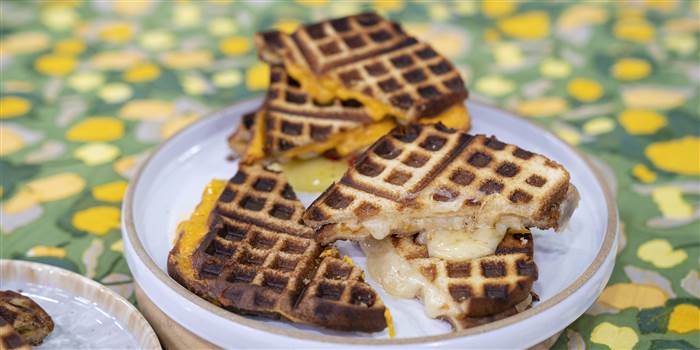 4 slices soft, whole-wheat or white bread
Mustard, sriracha mayonnaise, mango chutney or orange marmalade, optional
6 ounces cheddar cheese, sliced
2 tablespoons butter, softened
Place 2 slices bread on a work surface.
If using any of the optional condiments, spread them generously on the tops of the bread.
Divide the cheese slices evenly on the condiments or directly on the bread.
Top with remaining bread slices to make sandwiches.
Butter the outsides of the sandwiches, spreading the butter as evenly as possible (it needs to be softened to do this without tearing).
Heat a waffle iron.
Place a sandwich in the iron and close gently (do not squash down sandwich).
Let cook for 3 to 5 minutes, until the cheese is melted and the bread is golden.
Repeat with remaining sandwich.
Serve warm.