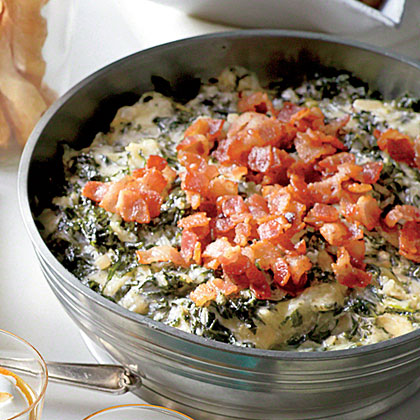 5 bacon slices, chopped
1 pound fresh kale, stemmed and finely chopped (about 1 bunch)
1/2 medium-size sweet onion, chopped
2 garlic cloves, chopped
1/4 cup dry white wine
1 (8-oz.) package 1/3-less-fat cream cheese, softened
1/2 cup mayonnaise
1 cup plus 2 Tbsp. (4 1/2 oz.) shredded Asiago cheese
1 cup plus 2 Tbsp. (4 1/2 oz.) shredded fontina or Swiss cheese
1 tablespoon red wine vinegar
1/4 to 1/2 tsp. dried crushed red pepper
1/4 teaspoon freshly ground black pepper
Assorted crackers and crudités
Preheat oven to 350°. Cook bacon in a Dutch oven over medium-high heat, stirring often, 6 to 7 minutes or until crisp; remove bacon, and drain on paper towels, reserving 1 Tbsp. drippings in Dutch oven. Sauté kale, onion, and garlic in hot drippings 7 to 8 minutes or until onion is tender. Add wine, and cook, stirring constantly, 1 to 2 minutes or until particles loosen from bottom of Dutch oven.
Stir together cream cheese and mayonnaise in a large bowl until smooth. Stir in Asiago cheese, next 4 ingredients, and kale mixture. Spoon into a lightly greased 1- to 1 1/2-qt. baking dish.
Bake at 350° for 25 to 30 minutes or until center is hot and cheese is melted. Let stand 5 minutes; top with bacon. Serve with crackers and crudités.