Flip the Fast Food Script: In 1969, the visionary Dave Thomas took a leap of faith and left his corporate job at 37 to chase his dream. He opened the doors to the first Wendy's in Columbus, Ohio, and forever changed the fast food game. Say farewell to frozen beef and hello to made-to-order masterpieces! With a commitment to using only the freshest ingredients, Dave Thomas revolutionized fast food by creating a menu that celebrates taste and quality.
Uncover the Secret Recipe: The crown jewel of the Wendy's menu? The mouth-watering Spicy Chicken Fillet Sandwich! Made with juicy, all-white meat chicken, crispy breading, and a secret blend of spicy spices, this sandwich is a flavor-packed feast that'll tantalize your taste buds with every bite. So, what's the secret to its deliciousness? Dave Thomas' unwavering dedication to quality and freshness, that's what!
Bring the Heat to Your Kitchen: Want to make this iconic sandwich at home? We've got you covered! Here's what you'll need:
=-=-=-=-=-=-=-=-=-=
Secret Recipe Alert
=-=-=-=-=-=-=-=-=-=
Wendy's Spicy Chicken Fillet Sandwich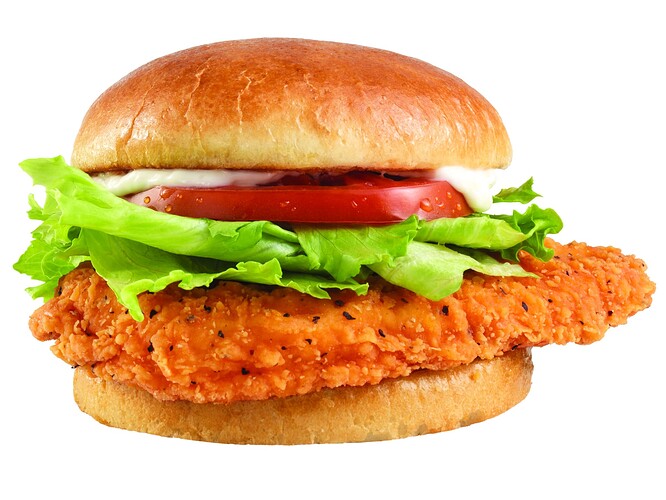 4 chicken breasts, cutlets
1⁄2 cup pickled jalapeno juice
1 cup buttermilk
4 dashes hot sauce
1 1⁄2cups all-purpose flour
1 teaspoon salt
1 teaspoon black pepper
1 teaspoon granulated onion
1 teaspoon granulated garlic
1 teaspoon chili powder
4 - 6 cups canola oil or 4 - 6 cups vegetable oil
4 potato buns
1 tablespoon butter
4 tablespoons mayonnaise
4 green leaf lettuce leaves
4 slices tomatoes
In a large bowl, combine the chicken, jalapeño juice, buttermilk and hot sauce. Cover with plastic wrap and chill for at least 1 hour, more if you have the time.

In a shallow bowl, whisk together the flour, salt, pepper, onion, garlic, and chili powder.

To dredge the chicken, remove each piece from the buttermilk mixture and dip into the seasoned flour. Dip once again into the buttermilk and once more into the dry ingredients. Place the dredged chicken on a wire rack set over a baking sheet and continue coating the remaining chicken pieces. Allow the coated chicken to rest while you heat up the oil. This will prevent the coating from falling off during frying.

Pour the oil into a large pot and heat up to 365 degrees F. Carefully lower the chicken into the hot oil, cooking it in batches to not overcrowd the pan. Fry until golden brown and the chicken reaches 165 degrees, about 4 to 6 minutes. Using a slotted spoon, remove the chicken from the oven and place on a clean wire rack, set over a baking sheet.

Set a large pan or griddle over medium high heat, melt the butter and toast the buns, cut side down.

To assemble the sandwiches, spread the buns with mayonnaise and place a chicken on each bottom bun. Top with lettuce and tomato and the top bun. Serve immediately.
Source: food.com
Until Next Time… Be Well!
RSN