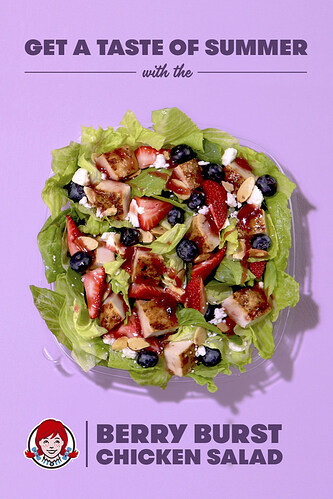 1 chicken breast
1/8 teaspoon salt
1/8 teaspoon ground black pepper
1/8 teaspoon garlic powder
1/4 teaspoon dried parsley
2 teaspoons vegetable oil
4 ounces lettuce mix
1/4 cup blackberries, washed
1/4 cup sliced strawberries
1 tablespoon feta cheese
5 or 6 pieces of dried apple chips
Marzetti® Simply Dressed Light Blackberry Vinaigrette
Season chicken breast with salt, pepper, garlic powder, and dried parsley. Place a small skillet over medium heat. Add vegetable oil to the skillet. Allow the pan to get hot, the oil should almost smoke, add the chicken. Cook chicken on each side for 5 to 7 minutes or until the chicken is done. Remove chicken from skillet. Allow the chicken to rest about 5 minutes before slicing into bite sized pieces.
In a large bowl add salad, blackberries, sliced strawberries, feta cheese, and apple chips. Add cut up pieces of chicken to the salad. Pour over Marzetti® Simply Dressed® Light Blackberry Vinaigrette as you desire.