This Secret Recipe comes from Westside Tavern in Los Angeles, California. This West LA favorite is known for high-end pub food with a modern take on seasonal Californian cuisine. They have fantastic cocktails, amazing flatbreads and delectable desserts. One of there irresistible desserts is the warm sticky toffee cake. This amazing dish is rich, sweet and addictive. Top this with a scoop of vanilla ice cream and you will be in heaven.
If that's not enough to satisfy your sweet tooth, then check out these dessert recipes.
Enjoy!
=-=-=-=-=-=-=-=-=-=-=-=-=
New Secret Recipe Alert
=-=-=-=-=-=-=-=-=-=-=-=-=
Westside Tavern's Warm Sticky Toffee Cake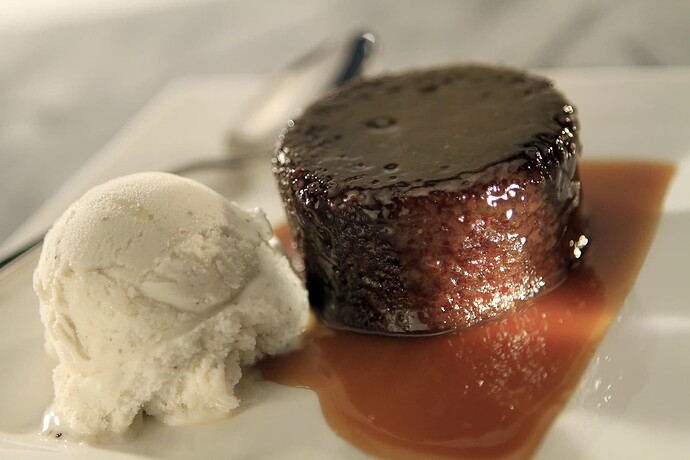 English toffee sauce
1 1/2 cups heavy cream
3/4 cup plus 1 tablespoon (1 1/2 sticks plus 1 tablespoon) butter, cut into ½-inch cubes
1 1/2 cups dark brown sugar
3/4 cup maple syrup
In a large heavy-bottom saucepan, combine the cream, butter, brown sugar and maple syrup. Bring to a boil over high heat, whisking frequently.

Once the mixture comes to a boil, remove from heat. Blend the mixture using an immersion blender until thickened and emulsified. Alternatively, the mixture can be blended in batches using a standard blender (be careful as the mixture is very hot). Makes 4 cups of sauce.
Toffee cake and assembly
2 tablespoons (1/4 stick) butter, plus extra for buttering the ramekins
Sugar for dusting the ramekins
1/2 teaspoon baking soda
1/2 cup plus 2 tablespoons boiling water
3/4 cup plus 2 1/2 teaspoons (3.4 ounces) flour
Pinch salt
3/8 teaspoon baking powder
1 cup plus 1 1/2 teaspoons dark brown sugar
1/4 teaspoon vanilla extract
1 egg
3/4 cup coarsely chopped dates
Hot prepared toffee sauce
Whipped mascarpone cream, cream or ice cream
Heat the oven to 350 degrees. Grease 6 (6-ounce) ramekins with butter, and dust with sugar. In a saucepan, whisk the baking soda into the boiling water.

In a large bowl, whisk together the flour, salt and baking powder.

In the bowl of a stand mixer fitted with the paddle attachment, or in a large bowl using an electric mixer, beat the butter, brown sugar and vanilla until fully incorporated.

To the butter mixture, add the egg and beat until fully incorporated. Over low speed, slowly and gently add the dry ingredients, scraping the bowl to make sure the batter is fully mixed.

Over low speed, slowly stream the hot water into the batter. Add the dates and continue mixing over low speed until the batter thickens. This makes about 2 cups batter.

Divide the batter between the prepared ramekins. Bake until the cakes are a dark, caramel color, about 45 minutes.

Remove the ramekins and cool the cakes for 5 minutes, then invert the cakes onto a rack over a rimmed baking sheet. Pour the hot toffee sauce onto the cakes until they seem saturated (extra sauce will pool at the bottom, this can be gathered for additional glazing and serving), then glaze the cakes a second time with the sauce.

Set the cakes aside for about 30 minutes to set up and cool. The cakes can be made a few hours in advance and held on a baking sheet, loosely covered with plastic wrap, at room temperature.
To serve, cover each cake with one-fourth cup warm toffee sauce. Serve with a generous quenelle or dollop of mascarpone cream or whipped cream, or scoop of ice cream.
Servings: 6-12
Source: LA Times
Until Next Time… Be Well!
RSN