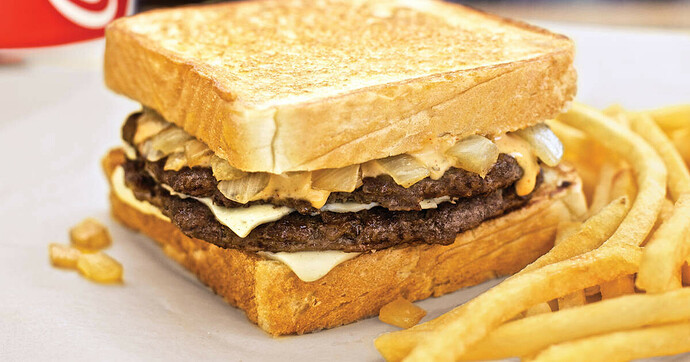 Creamy Pepper Sauce:
1 cup Kraft mayonnaise
1 tablespoon dry mustard powder
1 1/3 tablespoons white vinegar
1 tablespoon lemon juice
2 tablespoons chipotle peppers in adobo sauce
1 1/2 tablespoons fresh cracked black pepper
1/2 teaspoon ground white pepper
1 teaspoon salt
1 tablespoon onion powder
1 tablespoon garlic powder
1 teaspoon dry parsley
1/4 teaspoon Accent MSG optional
Toast Ingredients:
8 slices Texas toast
1 tablespoon butter softened
Burger Ingredients:
1 pound ground beef chuck
½ teaspoon salt
2 teaspoons butter
½ cup chopped white onions
4 slices Monterey Jack cheese
Creamy Pepper Sauce Preparation:
Combine all sauce ingredients in a small bowl.
Mash the chipotle peppers as you stir the sauce until you have a uniform mixture.
Place the sauce in an airtight container and let set for at least 1 hour before using for best flavor.
Toast Preparation:
Heat a grill pan or a large cast iron skillet to medium heat.
Spread butter on both sides of all four slices of toast.
Place buttered bread slices in the skillet and cook on both sides until toasted and browned.
Burger Preparation:
Place the ground beef into a bowl. Add salt and mix well.
Form the beef into 4 thin round patties.
Add 2 teaspoons of butter to the skillet.
Add onions and a pinch of salt to the skillet.
Cook the onions until they have browned. Remove the onions from the skillet.
Place all four burger patties in the skillet.
Cook the patties for 3 or 4 minutes and flip the burgers.
Add the slices of cheese on top of the meat. Cook for another 3 or 4 minutes or until cooked through.
Build the Patty Melts
Spread about 1 tablespoon of sauce on a slice of the toasted bread.
Scatter onions on top of the sauce.
Add a burger patty and then place another toasted bread slice on top.