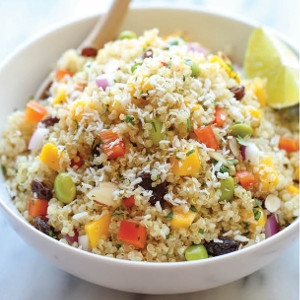 1 cup quinoa
1/4 cup balsamic vinegar
Zest of 2 limes
1 mango, peeled and diced
1 red bell pepper, diced
1/2 cup shelled edamame
1/3 cup chopped red onion
1/4 cup unsweetened coconut flakes
1/4 cup sliced almonds
1/4 cup raisins
2 tablespoons chopped fresh cilantro leaves
In a large saucepan of 2 cups water, cook quinoa according to package instructions; set aside.
In a small bowl, whisk together balsamic vinegar and lime zest; set aside.
In a large bowl, combine quinoa, mango, bell pepper, edamame, red onion, coconut flakes, almonds, raisins and cilantro. Pour the balsamic vinegar mixture on top of the salad and gently toss to combine.
Serve immediately.