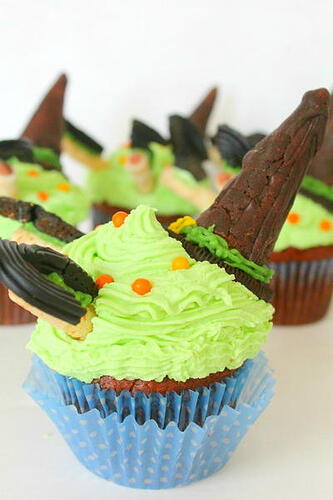 chocolate chip cupcakes (I used my chocolate chip brownie recipe but feel free to use any cupcake recipe you like)
Oreo cookies for the hats
ice cream cones for the hats, cut to fit the Oreo cookies
baking chocolate (or chocolate of choice), to top the cones
wafer sticks for the legs
black licorice wheels for the boots
green icing to act as glue
yellow icing for the hats
orange and yellow sprinkles (similar here)
For the frosting:
1 cup butter, room temperature
1 tsp. vanilla extract
1 tsp. peppermint extract
3-4 cups powdered sugar (more might be needed to achieve desired consistency)
green food coloring
Make and bake the cupcakes according to the recipe and cool completely before decorating. If you use my recipe, you may need to cut the baking time in half; just start checking your cupcakes after 20 minutes or so by inserting a toothpick in the middle of the cupcakes. If it comes out almost clean, with just a few moist crumbs, the cupcakes are done.
Prepare the hats: separate the Oreos and remove the filling with a thin knife; cut ice cones to fit the Oreos; place ice cones on a cooling rack; melt baking chocolate then immediately pour over each cone; leave to completely dry; attach the cones to the Oreo cookies using green icing; decorate with more green and yellow icing.
Prepare the legs: cut boot shapes from the black gummy candies; attach to the wafer sticks using green icing.
Make the frosting: Beat butter, vanilla extract and peppermint extract until smooth, approx. 3 minutes. Slowly add in powdered sugar until you reach your desired consistency. Add milk if it gets too thick, bit by bit.
Frost cupcakes then add the legs and the hats.
Add sprinkles.
Enjoy your wicked witch Halloween cupcakes with all your ghouls and goblins!