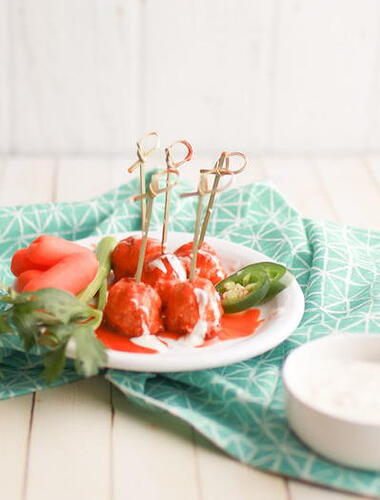 Meatballs
1 lb ground chicken
3/4 cup Italian bread crumbs
1 egg
Buffalo Sauce
1/2 cup butter
2/3 cup franks hot sauce
2 tbsp white vinegar
2 tsp Worcestershire sauce
1/4 tsp garlic powder
Blue Cheese Dressing
5 oz blue cheese
1 cup mayo
3/4 cup heavy cream
2 T white wine vinegar
1 teaspoon sea salt
couple twists of fresh ground pepper
Meatballs
In a medium bowl combine all ingredients.
Using your hands squish and mix together.
Drop by the teaspoon onto a baking sheet lined with foil and sprayed with pam.
Bake at 350 for 25-30 minutes or until cooked thru.
Transfer to a slow cooker and top with buffalo sauce.
Cook on low to keep warm.
Buffalo Sauce
Combine all ingredients in a medium saucepan.
Cook over medium high heat and whisk until combined and butter is melted.
Blue Cheese Dressing
For smooth dressing place all ingredients in a food processor and blend until smooth. Or, you can mix all ingredients in a bowl and stir until combined.
Let dressing marinate for an hour or more before serving.
Refrigerate leftovers in an air tight container.