Today's Secret Recipe comes from Yang Chow restaurant in Pasadena, California. This family-run Chinatown fixture serves Mandarin and Sichuan cuisine. One of there most famous dishes is the slippery shrimp. Delicious shrimp lightly battered and served in a spicy and tangy sauce.
We also have an incredible selection of shrimp recipes on our forum: Go Here
Enjoy!
=-=-=-=-=-=-=-=-=-=-=-=-=-=
I was losing my memory, focus – and my mind!
And then… I got it all back again.
Discover How: Here
=-=-=-=-=-=-=-=-=-=-=-=-=-=
=-=-=-=-=-=-=-=-=-=-=
New Secret Recipe
=-=-=-=-=-=-=-=-=-=-=
Yang Chow Slippery Shrimp
Like these recipes? Get our Restaurant Secret Recipes Cookbook – Go Here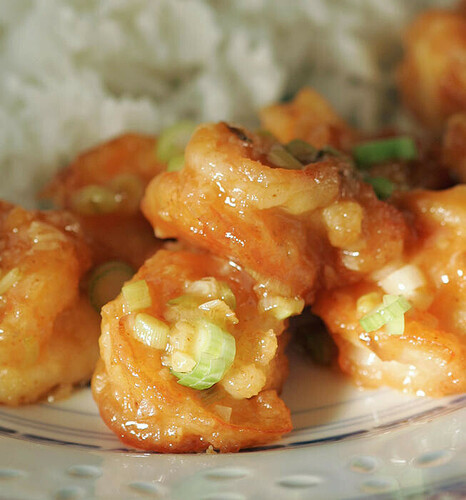 1 pound large shrimp
1/4 cup plus 2 teaspoons cornstarch
1/4 cup plus 2 teaspoons water
2 cups oil
2 large cloves garlic, minced
1/2 teaspoon minced ginger root
1/2 teaspoon cayenne
1 tablespoon tomato sauce or ketchup
1 tablespoon white vinegar
1 tablespoon white wine
1 1/2 tablespoons sugar
1/2 teaspoon salt
4 green onions, sliced
Peel, devein and butterfly the shrimp.

In a bowl, mix the shrimp with one-quarter cup -cornstarch to completely coat the shrimp.

Combine the remaining 2 teaspoons cornstarch with 2 teaspoons water in a bowl and set aside.

Pour the oil into a skillet or wok and heat over medium heat until hot. Add the shrimp and deep-fry until golden, about 45 seconds.

Remove the shrimp and drain the oil from the wok, leaving 1 tablespoon for stir-frying. Reheat the wok. Add the garlic, ginger and cayenne. Stir for a few seconds, then add the tomato sauce, vinegar, wine, sugar, salt, one-quarter cup water and the reserved cornstarch mixture. Cook and stir until the sauce is thick.

Add the shrimp; toss until covered with sauce. Add the green onions, stir, turn out onto a platter and serve.
Serves 4
Have a comment or question about this recipe? Post it here
Source: LA Times
Until Next Time… Be Well!
Kind Regards,
RSN