The Cheesecake Factory does not share its trade-secret recipes, but today's Secret Recipe comes very close to recreating the flavors of there stuffed mushrooms. These stuffed mushroom are made using parmesan and fontina cheese with a delicious wine sauce. Make these as an appetizer and you are guaranteed to get rave reviews.
In case you are looking for a quick and easy dinner idea, check out this tasty chicken casserole recipe.
Enjoy!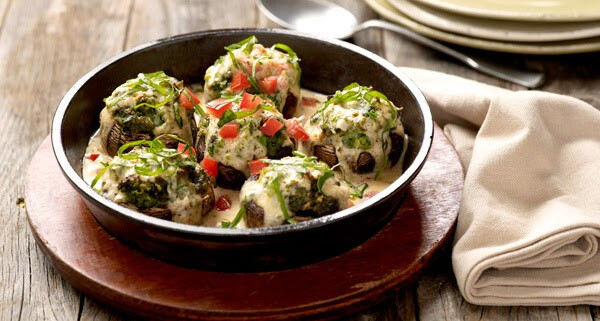 =-=-=-=-=-=-=-=-=-=-=-=-=
New Secret Recipe Alert
=-=-=-=-=-=-=-=-=-=-=-=-=
Cheesecake Factory Stuffed Mushrooms
Ingredients:
1 pound large button mushrooms
2 tablespoons olive oil
2 tablespoons butter
2 garlic cloves, minced
2 green onions, minced
3/4 cup sherry or white wine (divided use)
Juice of 1/2 lemon
Salt and freshly ground pepper
1 cup Italian-style seasoned bread crumbs
1/2 cup grated parmesan cheese
1/2 cup grated fontina cheese (divided use)
Instructions:
Preheat oven to 350 F. Rinse mushrooms well, pat dry and remove stems. Reserve stems. Use a pastry brush to coat mushroom tops all over with olive oil; place in a shallow baking pan just large enough to hold them in a single layer. Finely chop the stems and set aside.

Place any remaining olive oil with the butter in a heavy skillet and melt butter over medium heat. Sauté garlic and green onion until fragrant, 2 to 3 minutes. Add mushroom stems and cook a minute more.

Off heat, stir in 1/4 cup of the wine, the lemon juice and bread crumbs; toss with 2 forks to mix well. Stir in the parmesan and half the fontina. Mixture should be moist enough to stick together; add more wine if needed.

Spoon filling into mushroom caps. Top with remaining fontina. Pour remaining wine over the mushrooms (it will run off to make a sauce). Bake 8 to 10 minutes, or until cheese melts and mushrooms are cooked through. Spoon pan liquid over mushrooms and serve.
Makes 4 servings.
Source: Dallas News
Like Copycat Recipes? Get our Secret Recipes Cookbook Here .
Until Next Time… Be Well!
Kind Regards,
RSN