As a kid, I remember my parents could never get me to try seafood, but there was one seafood dish they tricked me into loving. We were on vacation and my Mom ordered chowder for me. I said, "What's chowder?" and she replied, "you'll like it". Moments later a thick and creamy soup was placed in front of me and after crumbling a few crackers into it, I dug in. From the first spoonful I was in love with the rich and creamy medley of potatoes, veggies and assorted seafood. It wasn't fishy tasting at all, and that's what I liked about it. Many years later, I'm now a fan of all kinds of seafood.
Today's Secret Recipe brings me back to that childhood memory. At Durty Nelly's in Nova Scotia they prepare an excellent seafood chowder that is hearty and delicious.
Durty Nelly's serves there chowder with fresh baked cheddar green onion biscuits and you can grab the recipe for those on our forum: Go Here
Enjoy!
=-=-=-=-=-=-=-=-=-=-=-=-=-=
I was losing my memory, focus – and my mind!
And then… I got it all back again.
Discover How: Here
=-=-=-=-=-=-=-=-=-=-=-=-=-=
=-=-=-=-=-=-=-=-=-=-=
New Secret Recipe
=-=-=-=-=-=-=-=-=-=-=
Durty Nelly's Seafood Chowder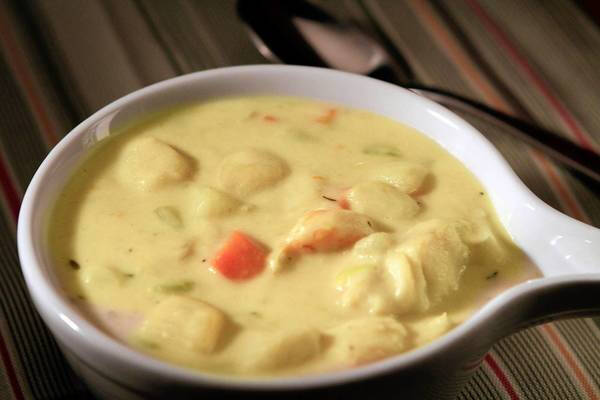 2 large boiling potatoes, diced
1 1/2 cups diced onion
1 1/2 cups diced carrot
1 1/2 cups diced celery
1/4 cup plus 2 tablespoons butter, divided
1 quart water
1 1/2 tablespoons fish base, preferably Minor's
1 cup whipping cream
1/4 teaspoon dried dill
1/4 teaspoon dried thyme
1/4 cup flour
8 ounces boneless firm white fish fillet, such as haddock or cod, cut into bite-sized pieces
6 ounces shrimp
6 ounces scallops
Salt and pepper
In a large pot of simmering water, boil the potatoes just until tender. Drain and set aside.

In a large, heavy-bottomed saucepot, sauté the diced onion, carrot and celery in 2 tablespoons butter until the vegetables are softened, stirring constantly to avoid coloring. Add the water and bring to a boil. Reduce to a simmer and whisk in the fish base. Add the potatoes, cream, dill, thyme and pepper.

In a separate pan, melt the remaining one-fourth cup butter over medium heat. Add the flour, stirring constantly, and cook for 2 to 4 minutes to make a roux. Whisk the roux into the chowder and continue to cook until thickened over medium high heat, approximately 2 to 4 minutes after the mixture has reached a boil.

Add the haddock, shrimp and scallops to the chowder just before serving, and simmer until the seafood is fully cooked, about 5 minutes. Season with salt and pepper to taste.
Serves 8
Source: LA Times
Get more secret restaurant recipes on our Secret Recipe Forum: Go Here
Until Next Time… Be Well!
Kind Regards,
RSN