The Secret Recipe (below) comes from Milton's Restaurant in Del Mar, California. For over 15 years Miltons' has been serving generous portions of upscale New York style deli favorites. They bake and prepare hundreds of items on a daily basis using fresh regional ingredients that are flown in from across the country. They are well known in San Diego as having the best lunch menu in the area.
One of their popular dishes is the colorful house chopped salad which is packed with flavor. Chopped lettuce tossed with smoked turkey, salami, cucumber, mushroom, tomato, egg, red and green peppers, onion, olives, currants, Jack and Swiss cheese, all tossed in a signature dressing.
At Milton's they serve the house chopped salad with a rich and creamy garlic dressing.
Enjoy!
=-=-=-=-=-=-=-=-=-=-=-=-=-=-=-=-=-=-=-=-=-=-=-=-=-=-=-=-=-=-=-=-=-=-=-=
Belly Flattening Secrets Revealed!
Best Selling Author Bruce Krahn Reveals The 2-Minute Ritual
Proven to Eliminate 1 Pound Per Day of Dangerous Belly Fat.: Here
=-=-=-=-=-=-=-=-=-=-=-=-=-=-=-=-=-=-=-=-=-=-=-=-=-=-=-=-=-=-=-=-=-=-=-=
=-=-=-=-=-=-=-=-=-=-=-=-=
New Secret Recipe Alert
=-=-=-=-=-=-=-=-=-=-=-=-=
Milton's Special House Chopped Salad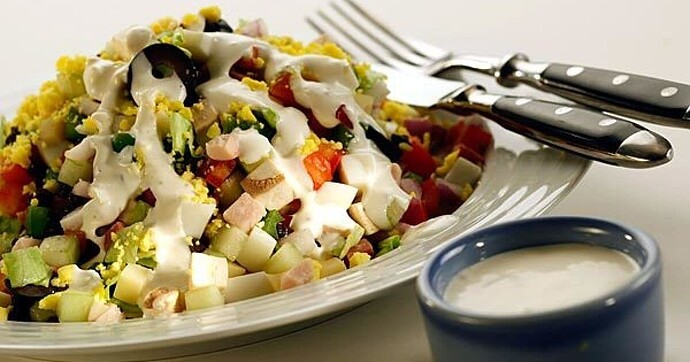 Ingredients:
1 cup chopped button mushrooms
1 cup chopped cucumber
1 cup chopped tomato
1 cup seeded and chopped red bell pepper
1 cup seeded and chopped green bell pepper
1 cup chopped red onion
1 cup diced salami
1 cup diced smoked turkey
1 cup diced jack cheese
1 cup diced Swiss cheese
1 cup chopped iceberg lettuce
1 cup dried currants
1 cup sliced black olives
2 hard-cooked eggs, diced
1 cup creamy garlic dressing (Get Recipe Here)
Steps:
In a large bowl, combine the mushrooms, cucumber, tomato, red and green bell peppers, onion, salami, turkey, jack and Swiss cheese and lettuce.

Divide the salad between 4 plates. Garnish each salad evenly with the currants, olives and eggs.
Serve each portion with 1/4 cup dressing, or more as desired.
Serves 4
Source: LA Times
Get more secret restaurant recipes on our Secret Recipe Forum: Go Here
Like Copycat Recipes? Get our Secret Recipes Cookbook Here.
Until Next Time… Be Well!
Kind Regards,
RSN