Pepperidge Farm Whole Wheat Bread Copycat from 1937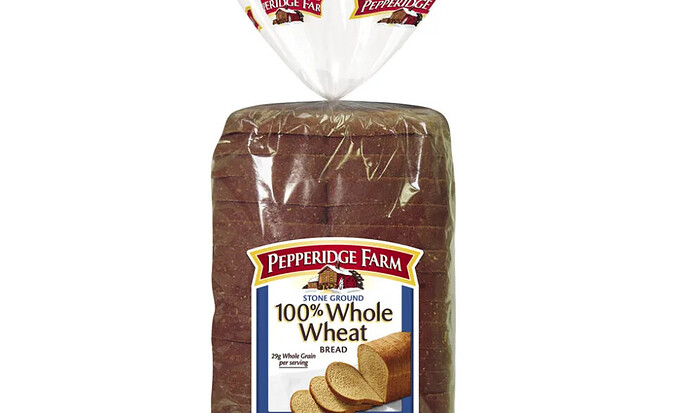 =-=-=-=-=-=-=-=-=-=-=-=-=-=-=-=-=-=-=-=-=-=-=-=
Lose Weight While Still Enjoying Your Favorite
Meals with this Water Hack
=-=-=-=-=-=-=-=-=-=-=-=-=-=-=-=-=-=-=-=-=-=-=-=
In 1937, Margaret Rudkin founded the Pepperidge Farm bakery in Fairfield, Connecticut. Her family lived on property called Pepperidge Farm, named for an ancient Pepperidge tree that grew there. One of her young sons suffered from severe allergies and asthma. On the advice of their doctor, as a treatment, he was put on a diet of fruits and vegetables and minimally processed foods. Margaret decided to try baking him some all-natural whole wheat bread as part of the diet. She used only wholesome ingredients like stone-ground whole wheat, fresh butter, whole milk and honey in the bread.
Her recipe turned out to be so successful, friends and family kept asking for it. She sold some to a local grocer. Even though her bread cost three times as much as most breads, orders poured in and she started a local bakery. She hired local women to work in the bakery and the bread was kneaded and prepared only by hand. In 1950, when the Pepperidge Farm Bakery expanded into Pennsylvania, bread was still hand kneaded at the new bakery. The bakery business expanded across America through the 1940's and 1950's making her a millionaire. She sold the Pepperidge Farm Bakery to Campbell's Company in 1961.
Copycat of the original hand kneaded Pepperidge Farm Stone Ground Whole Wheat Bread from 1937.
2 cups (490 g) Whole Milk, divided use
4 1/2 tsp (14 g) Active Dry Yeast (or 2 packets)
2 tsp (12 g) Table Salt
2 Tbsp (30 g) Butter
1/2 cup (170 g) Clover Honey
1/4 cup (30 g) Wheat Germ
6 cups (720 g) Stone Ground Whole Wheat Flour
Heat 1/2 cup milk until lukewarm. Dissolve yeast in milk. Let stand 10 minutes.

Scald remaining milk, pour over salt and butter in large mixing bowl. Cool to lukewarm, add honey, dissolved yeast, and wheat germ. Add whole wheat flour beating vigorously with wooden spoon until dough forms a ball.

Turn out on a well-floured board. Knead vigorously until dough is elastic and bubbles form. Place dough in a lightly greased bowl. Cover, set in a warm place until doubled in bulk.

Place dough on floured board. Divide in two parts shaping loaves to fit 5-inch by 9-1/2-inch loaf pans. Grease loaf pans well with unsalted shortening. Cover, let loaves rise in pans until almost doubled in bulk (about 1 hour) in a warm place.

Bake in preheated 400-degree F oven 15-minutes or until loaves begin to brown. Reduce oven to 350-degrees F and bake about 40-45 minutes longer or until bread is done.
Makes 2 loaves.
=-=-=-=-=-=-=-=-=-=-=-=-=-=-=-=-=-=-=-=-=-=
Enjoy Your Best Health Ever! PLUS…
Get Incredible Mental Focus and Potentially
Add Years to Your Life! with The AIP Diet
=-=-=-=-=-=-=-=-=-=-=-=-=-=-=-=-=-=-=-=-=-=