Halibut is one of my favorite types of fish. I love the texture and it doesn't hurt that it's super low in fat. In this dish, the halibut filets are topped with a mixture of panko bread crumbs and crumbled bacon and then baked to perfection. Bacon makes everything better, so you can imagine how good this dish tastes.
You can easily substitute fluke, flounder or turbot for halibut in this recipe if you prefer.
Serve your halibut with a marinated vegetable medley by following this recipe from our forum: Go Here
Enjoy!
Like Copycat Recipes? Get our Secret Recipes Cookbook Here .
=-=-=-=-=-=-=-=-=-=
New Secret Recipe
=-=-=-=-=-=-=-=-=-=
Red Lobster's Crunchy Bacon Crusted Halibut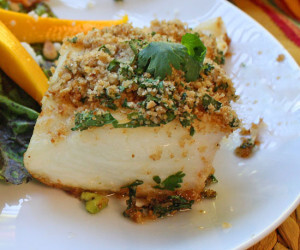 Ingredients:
4 halibut fillets – (8 oz ea)
6 slices bacon
1/2 cup Asian panko crumbs or flakes
3 tablespoons melted margarine or butter
Seasoned salt — to taste
Freshly-ground black pepper — to taste
Directions:
Preheat oven to 450 degrees F. Cook the bacon, then chop or crumble and set aside.

Brush both sides of fish with melted butter and place in a shallow baking dish. Arrange so that fillets are not touching. Sprinkle lightly with seasoned salt and pepper.

In a mixing bowl place bacon pieces, crumbs, and melted butter. Mix well to evenly distribute butter. Spread crust evenly over the tops of the fillets and press lightly.

Place just enough water in the pan to cover the bottom, do not place too much so that the topping on the fish is affected. Bake for 8 to 10 minutes or until fish is no longer transparent.
This recipe yields 4 servings.
Source: Recipe Secrets Forum
Like Copycat Recipes? Get our Secret Recipes Cookbook Here.
Enjoy!
Until Next Time… Be Well!
Kind Regards,
RSN
=-=-=-=-=-=-=-=-=-=-=-=-=-=-=-=-=-=-=-=-=-=
The Alpine Secret For Healthy Weight Loss.
=-=-=-=-=-=-=-=-=-=-=-=-=-=-=-=-=-=-=-=-=-=