For dinner tonight I recommend you try this recipe for French dip crescents. They can be prepared quickly and easily which is great on a weeknight.
Make sure you save room for dessert because I have a delicious Secret Recipe for a rich treat on the menu at the Zea Rotisserie and Bar in New Orleans. Zea's features an award winning American inspired menu with regional flavors created around a wood burning grill and rotisserie.
Zea's dense sweet potato bread pudding has an almost cake-like texture, with a crunchy pecan topping. What takes this yummy dessert to the next level is the sweet rum sauced that is poured over the top.
Enjoy!
=-=-=-=-=-=-=-=-=-=
New Secret Recipe
=-=-=-=-=-=-=-=-=-=
Zea's Sweet Potato Bread Pudding with Rum Sauce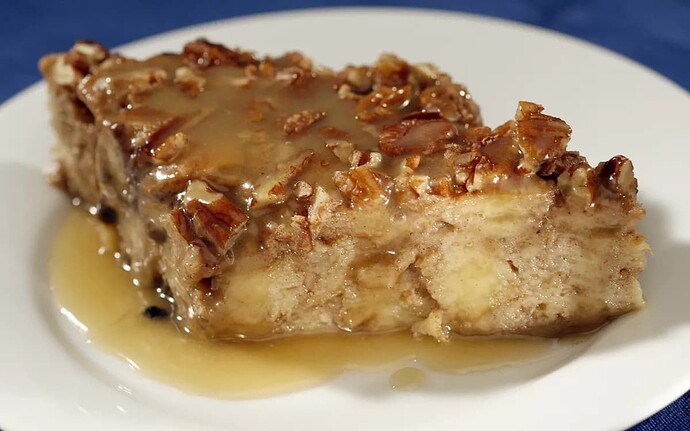 Ingredients:
Sweet potato bread pudding:
9 eggs
3 cups sugar
3 tablespoons pumpkin pie spice
3 tablespoons vanilla extract
1 1/2 cups mashed sweet potatoes (from 1 large boiled, peeled and mashed sweet potato)
1/3 pound butter, melted
1 quart milk
1 cup (5 ounces) raisins
1 pound stale French bread cubes, cut into 1/2-by-1/2-inch cubes
1 1/2 cups pecan pieces
Instructions:
In the bowl of a stand mixer, or in a large glass or nonreactive bowl using a hand mixer, beat the eggs. Slowly beat in the sugar, then beat in the pumpkin pie spice and vanilla extract. Beat in the mashed sweet potatoes until thoroughly combined, then beat in the butter. Add the milk, beating until all of the ingredients are completely and thoroughly incorporated. If using a stand mixer, transfer the custard base to a large glass or nonreactive bowl.

Using your hands, mix the bread cubes and raisins into the custard base. Cover and refrigerate the mixture overnight.

Shortly before baking, heat the oven to 275 degrees. Thoroughly stir the mixture, making sure there are no white spots of un-soaked bread (it is fine if the soaked bread breaks down somewhat as you stir), and check to see that the raisins are evenly distributed.

Pour the mixture into a lightly buttered 13-by-9-inch baking dish. Lightly scatter and press the pecans onto the top of the pudding.

Bake the pudding until it has puffed and the custard is set in the center, about 70 to 90 minutes. Remove the pudding to a rack to cool for 2 hours before serving.
Rum sauce:
2 cups light corn syrup
1/4 cup dark rum
1 cup (2 sticks) butter, at room temperature
2 tablespoons vanilla extract
In a medium saucepan, heat the corn syrup, rum and vanilla to a simmer over medium heat. Remove from heat and, using a whisk, vigorously beat in the softened butter. Keep at room temperature until ready to serve. This makes about 3 cups sauce.
Serves 12-16
Source: LA Times
Get more secret restaurant recipes on our Secret Recipe Forum: Go Here
Like Copycat Recipes? Get our Secret Recipes Cookbook Here.
Until Next Time… Be Well!
Kind Regards,
RSN